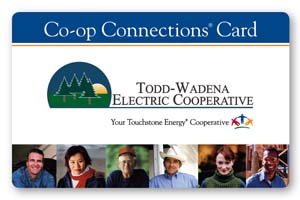 Just by showing a Co-op Connections Card, members can take advantage of savings at local and national businesses. This program is yet another way we're looking out for our members.
Local Discounts
There is a growing number of local businesses that offer discounts when you present your Todd-Wadena Co-op Connections Card.
Browerville

Konetzko's Meat Market //516 Main St. S.
$2.00 off $20 purchase of meat sticks OR $2.00 off 1 lb. purchase of beef jerky. One discount per visit. Offers cannot be combined. Not valid with any other offers.

Pro Ag Farmer's Co-op //501 Railroad Ave.
10% off pet food and bird seed.
Long Prairie

Thorson's Farm Fresh Produce //Hwy. 71
10% off any purchase.
Staples

Ace Hardware // 210 2nd Ave. NE
10% off (1) Item $30 or less

Japke Decorating, Carpet & Gifts // 877 2nd Ave. NW
10% off one item per visit on clothes or gifts.

Old 10 Apparel //508 2nd Ave. NE
20% off any one regular priced in-stock item (excludes letter jackets & laser engraving).

True Value //205 Warner Rd. NE
10% off any item, $50 or less.
Wadena

1776 Clothing Company //102 Jefferson St. S.
10% off total purchase of regular priced items.


Hometown Crafts //123 1st St. SW
10% off regular priced merchandise. Not valid with other coupons.

Lyle's Shoes //118 Jefferson St. S.
10% off regular priced in-stock item.

Pizza Ranch // 106 Jefferson St S.
$1.00 Off an Adult Buffet – Limit 2 (Code:1275)

Wadena Eye Clinic // 222 1st St. SE
15% off all regular priced glasses. Not valid with insurance or other discount programs

Whitetail Run Golf Course //13379 Leaf River Rd.
(2) 18 hole green fees with 18 hole cart for $75.00. No other discounts apply.
National Discounts
Explore over 100 discounts available to you as a member of Todd-Wadena Electric Cooperative. From flowers to amusement parks to shopping—you just might find a discount you never knew you needed.