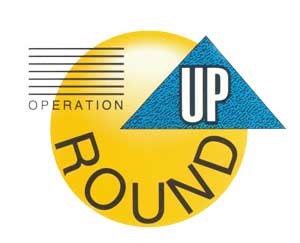 Giving back to the community we serve is a core cooperative principle. The Operation Round Up® program from Todd-Wadena Electric Cooperative is a great way for the co-op and its members to give back.
Operation Round Up® is a voluntary, member-driven fundraising program for local community projects. Each month, Todd-Wadena "rounds up" the electric bills of participating members to the next highest dollar. For example, if you are a Operation Round Up® participant and your bill is $110.73, it will be rounded up to $111.00. That additional 27 cents will be placed in a Community Trust and distributed to local charitable, community-based programs. The average annual contribution is about $6. If you are interested in rounding up your Todd-Wadena Electric bill, contact the Cooperative at (218)-631-3120 or (800)-321-8932 or click on the "Round Up My Electric Bill" link below.
Since the program's inception in 2002, Todd-Wadena members have raised and donated more than $631,000 for 788 local community service projects!

Community groups are encouraged to apply for an Operation Round Up® grant by completing a Operation Round Up application. The Trust Board evaluates funding requests in accordance with Community Trust bylaws and policies, three times a year. Application deadlines are January 15, May 15 and September 15.
Operation Round Up® Final Report
Per the TWEC Community Trust Fund and Operation Round-Up®, organizations receiving grant funds must submit a final report of outcomes within one year of receiving those funds. This report should describe the project objectives and progress or conclusions. A financial report on the use of grant funds should be included, along with a copy of all expenditures and receipts. Please include the overall impact of the grant, along with any success stories and photos, if available. The Operation Round Up® Final Report fillable pdf can be downloaded using the button below.

Community Trust Board Members
The Operation Round Up Trust is administered by volunteer Community Trust Board members, appointed by the Todd-Wadena Electric Cooperative Board of Directors. Each Trust Board member may serve (2) consecutive 3-year terms.
Trust Board Members:
Nancy Benson, Chair
Russell Kleinschmidt, Vice Chair
Bruce Curley, Secretary/Treasurer
Peter Fink
Sarah Gregerson
Heidi Huotari
Kristine Hendrickson