63 million pennies. That's how much TWEC's Community Trust has given back to local community organizations since 2002 in Operation Round Up grants.
Each month, Todd-Wadena "rounds up" the electric bills of participating members to the next highest dollar. One month, it may be one penny, and the next month, 99 pennies. The average annual contribution is $6. Your monthly donation along with the 4,600 other TWEC members who participate, averages about $30,000 a year.
The Community Trust Board comprises of seven Todd-Wadena Electric Cooperative members who are appointed by the TWEC Board of Directors. The Community Trust Board meets three times a year to review and distribute grants to local community organizations.
The Community Trust Board met in early October to review the latest round of applications. They approved five grants totaling $11,600. The recipient organizations and their awards are as follows:
The recipient organizations and their awards are as follows:   
| | | |
| --- | --- | --- |
| Organization Name: | Project Name: | Amount Awarded: |
| Eagle Bend Fire Department Auxiliary | Nelson Park Splash Pad | $5,000 |
| Nimrod Community Hall Association | Replace Windows  | $3,000 |
| Someplace Safe Wadena Advocacy Office | Emergency Resources for Victims | $600 |
| Staples Historical Society | Children's Christmas Festival | $1,000 |
| Staples-Motley Diamond Club | Dugouts for JV Field | $2,000 |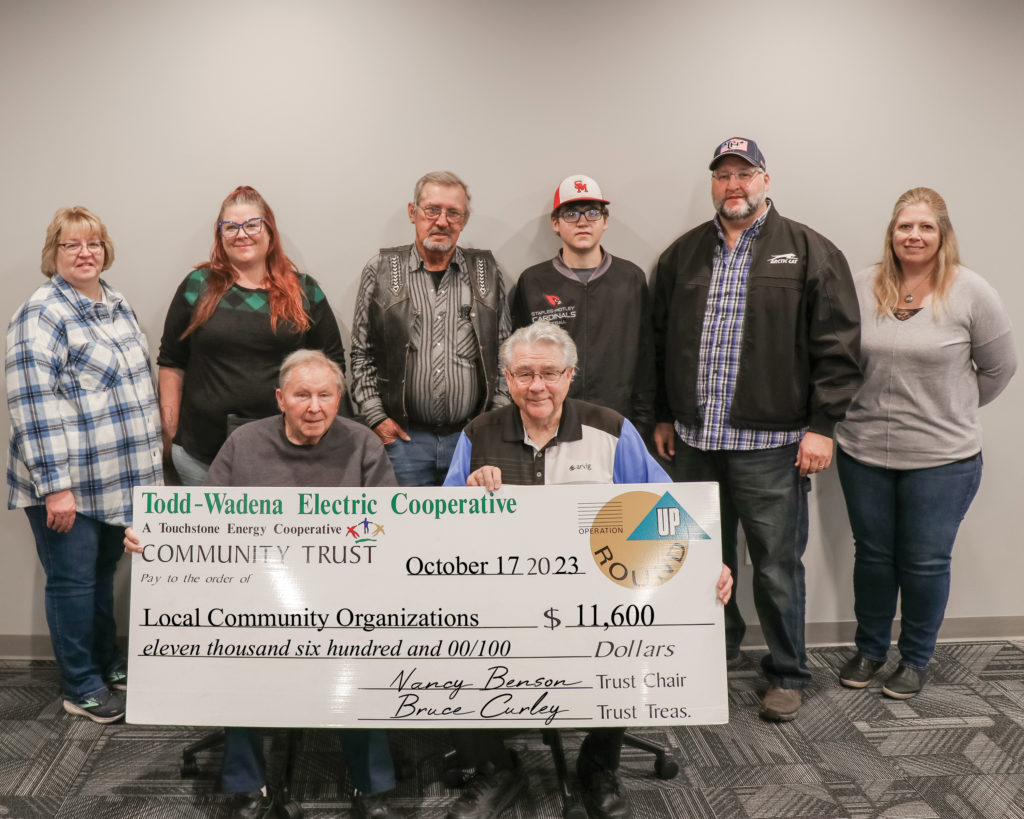 Local, nonprofit community service groups may apply for Operation Round Up grants by downloading a copy of the application form and guidelines at www.toddwadena.coop. The next application deadline is January 15.
If you would like to participate in Operation Round Up, by rounding up your electric bill, please fill out the form here. Thank you for helping us live the cooperative principle of Commitment to Community.