With over 255 members and guests in attendance, Todd-Wadena Electric Cooperative celebrated the 2022 Annual Meeting at Wadena's Maslowski Wellness and Research Center on Tuesday, April 19th.
In the board of director elections, Nominating Committee Chair, Wally Weise announced that incumbents Marie Katterhagen and Mike Thorson were re-elected for a three-year term. An organizational meeting of the board was held immediately following the Annual Meeting, resulting in the following officers re-elected: Miles Kuschel as Chair, Tom Brichacek as Vice Chair, Marie Katterhagen as Secretary, and Dale Adams was selected as Treasurer.
In his chairman's message, Miles Kuschel spoke to the members about the changes that have happened over the past two years in which the Annual Meeting was held virtually. The cooperative is currently building a new Leaf River Substation, is well into the receiver changeout, rebranded with a new logo, revamped the website, and built a new headquarters to better serve our growing cooperative—all without raising rates. Kuschel also spoke about electric vehicles and the ease of maintenance.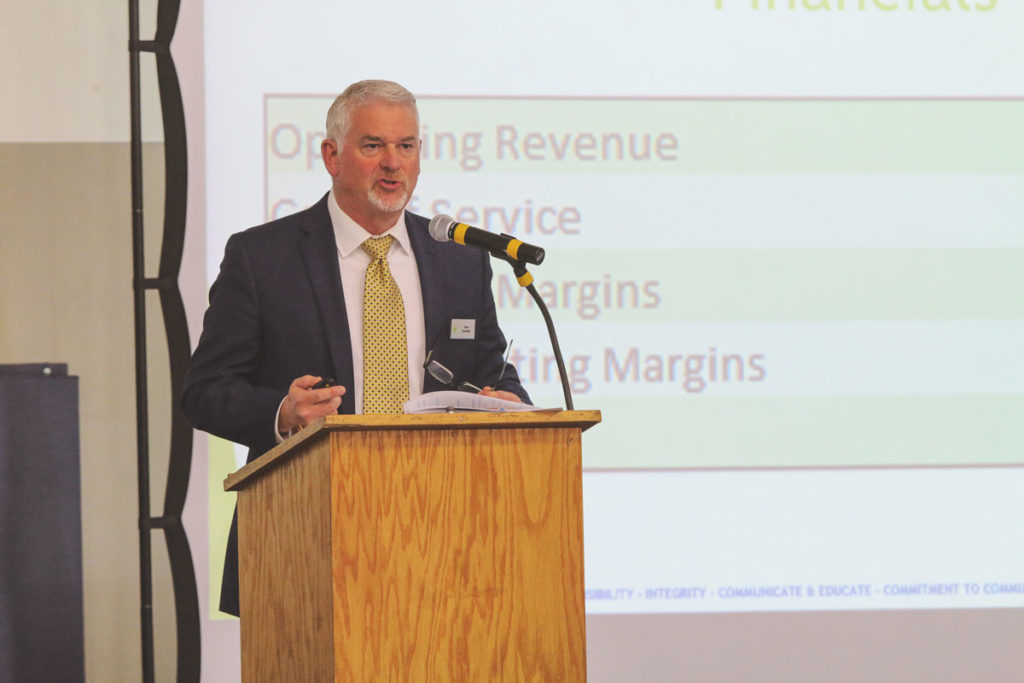 Dan Carlisle, TWEC President/CEO recognized scholarship winners from 2021, and the newly selected recipients for 2022. Carlisle also reported on the cooperative's stable financial status, 2021 rebates given back to members, and kWh savings from energy efficient appliances that were installed. Carlisle discussed the sale of Coal Creek Station to Rainbow Energy Center, LLC out of Bismarck, ND. Members were able to attend the deep dive session held prior to the business meeting on the changing energy resource mix with Carlisle and Jon Brekke, Great River Energy's VP/Chief Power Supply Officer. Attendees learned more about the sale and the change in our energy mix.
Ten gas gift card door prizes were given away, along with four cash prizes. Following the meeting, members and guests were treated to a delicious beef tips in gravy and ham dinner catered by the Clarissa Ballroom.