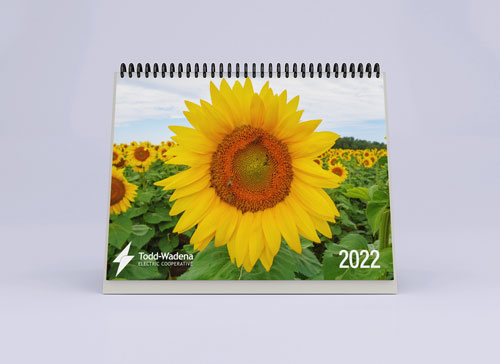 Stop by to pick up a calendar at our office or at one of our pick up locations throughout the service territory! Limited quantities are available at each location. Thank you to all our members who submitted photos!
Browerville
Pro-Ag Farmers' Co-op
501 Railroad Ave.
Long Prairie
Long Prairie Chamber of Commerce/Great River Regional Library's Foyer
43 3rd St. N.
Menahga
A Clean Plate Local & Organic Grocery
13 Birch Ave. SE
Staples
True Value // 205 Warner Road NE
Selected Photo Winners
January
Rita Tepley, Eagle Bend
February
Janice Winter, Bertha
March
Tim Sly, Wadena
April
Kathleen Shaffer, Staples
May
Lindsey Maki, Menahga
June
Crystal Wiese, Verndale
July
Angie Hartwig, Motley
August
Jill Opdahl, Browerville
September
Mary Jonson, Clarissa
October
Missy Aaker, Willmar
November
Missy Beyatt, Bertha
December
Kathy Wellmann, Verndale
Cover photo
Roberta Brinkman, Verndale