Following a year's delay due to the COVID-19 pandemic, the collaborators behind 'Sota Grown gathered Friday, Aug. 27th, at the site of their indoor agriculture food project for a celebratory ribbon-cutting event.
'Sota Grown is an innovative pilot project that's growing leafy greens inside a renovated shipping container at Central Lakes College's (CLC) Staples campus. This collaboration between electric cooperatives, a local college, health care facility, and national research institute intends to demonstrate over a two-year period how indoor crop production using efficient electricity, technology, and plant sciences can produce ideal conditions for growth, yield, quantity, and consistency.
Representatives from each of the collaborators — along with special guests including Thom Peterson, Minnesota's Commissioner of Agriculture, and Representative John Poston — spoke on the project's overarching impact on each participating organization, as well as the surrounding community that has benefited by receiving fresh produce grown in the container throughout the last year.
"Thanks to partners and dedicated CLC staff, we have been able to produce well over 1,000 pounds of kale in a year-round capacity," said Cory Detloff, director of Ag & Energy at CLC. "This project gives us a unique ability to measure energy and water usage, monitor growing conditions, deliver wholesome produce year-round, and measure crop output to help determine the financial viability of these systems for other producers."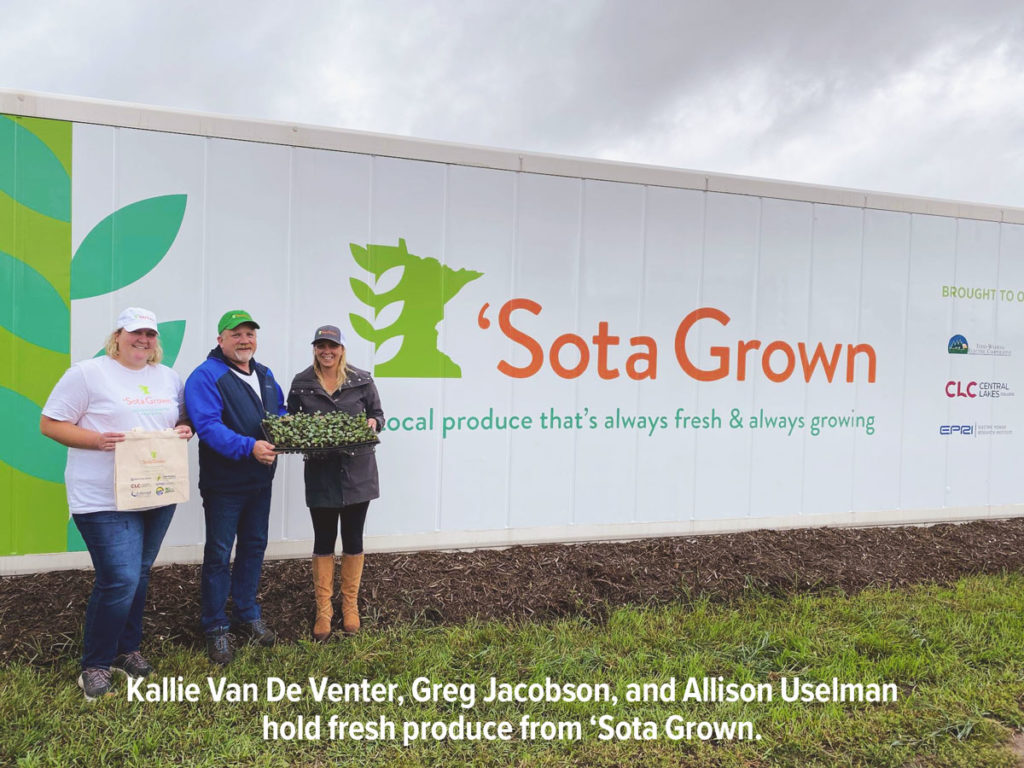 Allison Uselman, Member & Energy Services Manager at Todd-Wadena Electric Cooperative (TWEC), said while this project is embracing the beneficial use of electricity to find ways that may help the state's agriculture community in the future, it is not intended to be a replacement for traditional farming.
"Our cooperative was built by local farmers and our agriculture community continues to play a significant role in our operations," Uselman said.
One of the factors that went into Great River Energy and the Electric Power Research Institute's decision to choose TWEC for this pilot project is its location, specifically its geographical position within a USDA defined "low-income access" area. This means many community members there face both economic and distance challenges to access fresh, healthy food on a routine basis.
The pilot project's success has already created a blueprint that is being replicated around the state: A few additional projects have sprung up with help from some of Great River Energy's member-owner cooperatives. As more electricity generated by the cooperatives is from renewable energy resources, the electricity used to power projects like 'Sota Grown becomes cleaner, too.
"Twenty-five percent of the electricity Great River Energy generates today is renewables and, in just two years, that will increase to 50% as we plan to add 900 megawatts of wind energy by the end of 2023," said Mark Fagan, Vice President and Chief Corporate and Member Services Officer at Great River Energy. "We look forward to seeing the even greater potential indoor food production has in Minnesota's future, and how our electric cooperatives can be part of it."
Visit 'Sota Grown on Facebook at www.facebook.com/SotaGrown to follow along as the project continues to grow fresh produce.