It was a warm day in the spring of 1974 when two gentlemen drove in the yard. Little did I know how it would change my life. My wife and I visited with them, and they said they were directors at Todd-Wadena Electric Cooperative (TWEC). One of them was retiring from the board (Walter Carlson) and they were looking for candidates to run for his seat. I remember the last thing I said to them was that I was too young and inexperienced. I told them they should come back in 20 years, as I would like to serve my community.
In the fall, I was totally surprised to see my name on the ballot – and even more surprised that I won! Becoming a board member involved a huge learning curve for me, but I worked hard to become familiar with the cooperative business model.
I would like to tell you a little about what it means to be a cooperative director. The first thing a director learns is that the board has only three employees: the CEO, the attorney, and the auditor. TWEC has had five CEOs (managers) in its history. I have been involved in hiring four of them, which is one of the most important decisions a board makes. The everyday operations and all employees are under the direction of the CEO. Currently at TWEC, we have a CEO who is also our attorney. Therefore, the auditor is the only other employee of the board. The auditor comes in once a year to audit the books and report to the board.
The board typically meets once a month and receives reports from the CEO and senior staff. The board sets policies on how the cooperative is to operate, sets an annual budget for those operations, sets rates, and monitors the financial condition and operations each month.
The cooperative model of business is complex and a little different than most businesses, so we encourage all new directors to become credentialed by taking courses from the National Rural Electric Cooperative Association.
As directors, we lobby state and national leaders, both in-person and through our state and national organizations, to make sure they understand the needs of our members. Strategic long-range planning is another important part of what directors do. Planning, permitting, and building infrastructure to serve our members is an ongoing process. As a board, it is important to have an informed vision of what the cooperative and our members will need in the future.
TWEC is a member of Great River Energy (GRE), which generates and transmits the power to TWEC substations. I have represented our membership on the GRE board for about 20 years. We are also a member-owner of STAR Energy, which provides many services including engineering and purchasing. Dale Adams represents us on that board.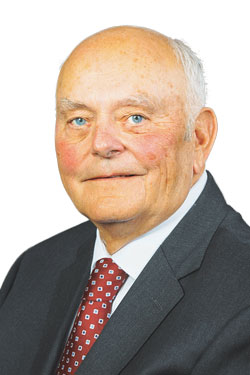 I continue to learn as the utility industry changes. I enjoy the challenge of being a director and hope I can bring some accumulated wisdom to the position. It is rewarding to mentor young board members as they gain experience and grow into their roles. It has been an honor to serve you all these years and I thank you.
-Mike Thorson // TWEC Director